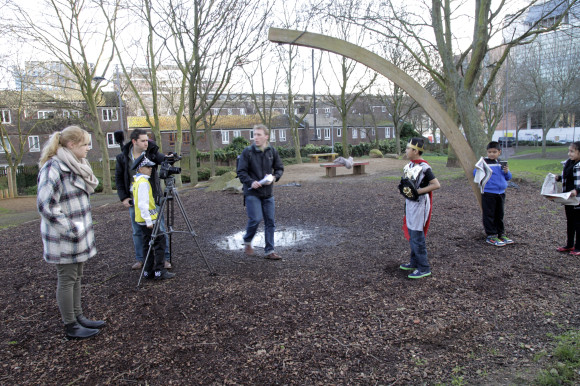 Concocted from heresay and half-truths, the world and character of Arthur Pendragon makes for a spellbinding story and a fascinating protagonist to explore. Celebrated on screen, stage and page, modern versions cast him as a hero who plucks swords from boulders, commands gallant Knights and conjures plots with an eminent wizard.
Through an imaginative and animated workshop day, the children decided to fuse Medieval legend with a more contemporary setting, populated by some fairly recognisable and illustrious characters. The film sees Arthur brought to present-day London on a quest to rescue Queen Elizabeth II from the wicked sorceress Morgana. Along the way, Arthur's Knights perform noble deeds on unsuspecting and bemused members of the public.
"The Return of King Arthur" was an ambitious project, featuring scenes with multiple actors, an assortment of highly detailed props and costumes to maintain and a trek to one of London's busiest railway stations to shoot some complex action sequences.
Bearing shields and Knightly body armour, our Camelot cast formed a colourful procession as they made their way to the concourse outside King's Cross St Pancras station. Intrigued onlookers gawped as the Knights came to the rescue of a captive Guinevere and marched triumphantly towards the Underground.
It's a colourful tale brought to life by a medley of dazzling crowns organised and crafted by class teacher Neil McIntyre, whose passion for the film boosted and supported the children throughout the filmmaking process.
It was a complex film to shoot, but the children exhibited valiant teamwork, creative invention and perseverance, qualities King Arthur and his Knights would have been proud of!